Food and wine matching in and around San Francisco
Posted by
Fiona Beckett
(Google+)
on November 11 2008 at 09:09
Given that San Francisco is within two hours drive time from over 1200 wineries it is not surprising that one can savor great meals with delicious wines in any number of world class restaurants. But maybe fewer of you are aware of the opportunity to experience a food and wine matching experience without even leaving the City limits.
One of the most unusual settings is aboard the 165-foot former Presidential yacht, the USS Potomac (right). Cruising the San Francisco Bay every Saturday afternoon and Sunday morning from April through November, "Sips and Bites on the Bay," offers a selection of California wine paired with seasonal cuisine prepared on-board by the Left Bank Brasserie.
We were treated to a sunny clear-sky autumn day as we boarded recently with 50 others, hopeful of tasting one of the Bay's best Sunday morning wine and food pairing brunches. It featured six complementary taste matches including:

Dry Creek Sonoma Fume Blanc with Oysters on the Half Shell with Mignonette Gelee
Wattle Creek Chardonnay with Smoked Salmon, Crme Fraiche on Potato Gaufrettes
Dutton Pinot Noir matched with Creamy Escargot and Mushroom Ragout served on endive
St. Exupery Cabernet Sauvignon with Beef Carpaccio, Arugula and Parmesan on Brioche with Truffle Aioli

"Sips and Bites on the Bay" is organized by Foggy Bridge winery, a new wine label that will soon be the first wine-tasting facility and restaurant in the now decommissioned military complex, Fort Mason.
The Press Club sounds like a private haven for journalists but in San Francisco it is a recently opened urban tasting room featuring eight of Northern California's world-class wineries. Located in the heart of downtown, near SF's Museum of Modern Art and only two blocks from the SF Convention Center, the Press Club is walking distance from every major downtown hotel. This beautifully designed 9,000 square foot facility offers a food and wine lounge where visitors can order a food and wine flight. Both red and white flights are available featuring pairings such as

Tartare of Bluefin Tuna with Chateau Montelena Riesling (Yes, this is the same Chateau Montelena whose Chardonnay amazed French wine judges in 1976 and is featured in the independent vinophile movie Bottle Shock)

Mesquite Grilled Black Tiger Shrimp matched with Miner Family Central Valley Viognier
Center Cut Pork Loin Skewers with Shiitake Mushroom matched with Fritz Winery Estate Reserve Zinfandel
A third option for matching food and wine is in Ghirardelli Square, a quaint shopping complex famously known as home to the chocolate company of the same. New to the complex overlooking San Francisco Bay is Cellar 360, a wine bar sampling the wines of Australian wine and beer conglomerate Foster's. Foster's is most well known for their beer and Crocodile Dundee-like commercials but the company also owns Australian wineries Penfolds, Wolf Blass, Lindemans and Rosemount Estate as well 20 plus boutique wine labels in California including Stag's Leap, Chateau St. Jean, Etude and Meridian.
Besides being able to taste from a variety of vineyards while still being within eyesight of Alcatraz on San Francisco Bay, Cellar 360 also offers tasty tidbits prepared by Culinary Specialist Kasey Passen who oversees food and wine matching classes every month.
Cellar 360's informative website offers great recommendations and recipes for white, red, dessert and sparkling pairings.
As any savvy vino visitor to Northern California might expect, there are more wine tasting options available in the San Francisco Bay Area than one can schedule in a short visit. What was most unusual, is the number of urban tasting options and that many of these options focus specifically on matching food and wine, giving wine-lovers like us an ever more complex and tasty experience without ever leaving the city.
Finally, it appears that matching food and wine in wine country tasting rooms is catching on as well. A number of wineries in Napa and Sonoma and other valleys now offer options to taste their wines with matching "taste treats".
These include:
Buena Vista in Sonoma offers a seated food and wine pairing experience that includes five of their premiere wines matched with five complementary 'tastes' for $20. Reservations recommended.
J Vineyards and Winery in Healdsburg offers a choice of wine and food pairings. For $35, their chef matches premium wines with locally prepared charcuterie, pates and local cheeses. For $55, one can indulge in 4 sparkling wines with Tsar Nicoulai caviar. Both are available from Fri. –Mon. 11am to 4pm on a first-come first-served basis.
Lynmar Winery in Sebastopol offers a $45 tasting experience at a reserved table with a view of the Russian river. The fare is seasonal and may include mushroom risotto or a roast butternut squash dish matched with a variety of their best current release pinots and chards.
St. Francis Winery located in Santa Rosa offers a Wine and Charcuterie tasting daily from 11am-4pm for $30. Wines include their zinfandel, merlot, cab and chardonnay paired with cheeses, salami, Sonoma-made bread with homemade pate and rilouttes.
Mayo Family Winery offers what the winery calls "The Complete Tasting Experience" which has been described by the Wall Street Journal as "the single best deal in wine country".
While overlooking views of the hillside vineyards of Kenwood, we were treated to a pairing menu that included seven Mayo Family Reserve wines and seven tasting dishes created by their chef to complement the wines. The tasting fee was as satisfying as the combinations, only $20. Reservations are a must @ 707-833-5504.
PS - you might be interested to know that a restaurant opened recently in SF that only serves Australasian Wines. The chef, Luke Mangan of Salt in Sydney, is co-owner along with the daughter of the owner of New Zealand's Villa Maria winery. The restaurant appropriately called South caters to San Franciscans and tourists as well as ex-pat Australasians.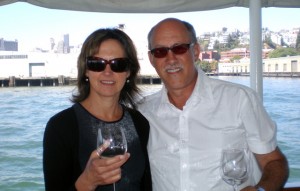 Trish Gilmore and Hal Josephson live in San Francisco. Hal writes:
Trish is a native born Kiwi and a Reading Recovery specialist teaching up until last year in the NZ public school system. I am involved in international business development and for the past 4 years have been taking business executives into China www.chinaaccess2008.com